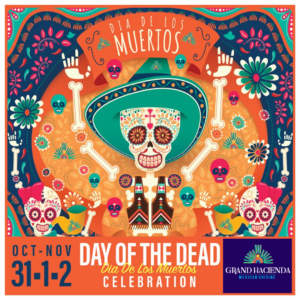 You may have heard of the Mexican celebration Dias de Los Muertos, and no doubt you've seen the classic sugar skulls. But what does it all mean? And how can you join the fun?
Dias de Los Muertos is a Mexican holiday that is celebrated on November 2. Unlike Halloween, many believe that during Dias de Los Muertos, the dead awakens from their eternal sleep to celebrate with their loved ones.  The festival is a celebration to show love and respect for the deceased.
You could say that this Mexican custom is a bit of a mash-up of cultures, since it combines the indigenous Aztec rituals with Catholicism, and was brought by the Spanish conquistadores. Today, it's celebrated in Mexico, and anywhere that there is a large Mexican population. 
With a richness of color, sounds, and tastes, let's take a look at how we celebrate.
Ofradas
The creation of small personal altars, called ofradas, is to remember and honor the dead. Personal reminders of a loved one are gathered, such as photos, personal items, a favorite food, or drink. Families will often carry out a favorite activity or dedicate a favorite song that was enjoyed by the loved one. During Dias de Los Muertos, families will clean and decorate the graves of a family member, and it's a time for prayer and remembrance. Many families will go on a journey with their offerings.
Calaveras
Popular symbols of Dias de Los Muertos are calacas and calaveras – skulls and skeletons. They may ap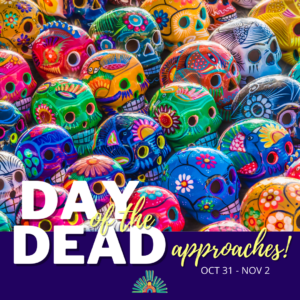 pear as candied sweets, as parade masks, face painting, and dolls. Often, calacas and calaveras are portrayed in fancy clothes and entertaining situations. You might notice that calaveras are often drawn with a smile as if to laugh at death itself.  
Flowers
The flowers associated with Dias de Los Muertos are bright yellow marigolds, also known as Flor de Muerto. These flowers are used to decorate altars, as they make pathways that guide the spirit to their ofradas. Their vibrant color and scent attract the departed soul, and they represent the beauty and fragility of life. 
Food
During Dias de Los Muertos, families often prepare the favorite food and drinks of a loved one who has passed on, as if they were still alive. That's because food is such a great way to fondly remember someone. At Grand Hacienda, our authentic menu reminds us of those we love both in Mexico and the US, and we think that enjoying food is the best way to celebrate. Eating with family and friends is all part of fondly remembering whose who have died. 
Music
Guitars, violins, trumpets, and voices – you'll hear all of these things to serenade a loved one during Dias de las Muertos. Families will play a favorite song and celebrate with the music that their friend or family member used to love. Parades, parties, singing, and dancing are all enjoyed during Dias de Los Muertos, and you'll even spot some funky costumes and makeup.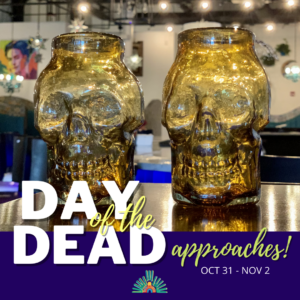 Celebration time
Dias de Los Muertos is a tradition that has been preserved over time, and at Grand Hacienda, we would love to celebrate with you. Join us for laughter and memories, and to explore the vibrant traditions, tasty dishes, and delicious drinks.
Let's enjoy an authentic Mexican meal, and raise a toast to our loved ones, wherever they may be. Let's bring this festival to life, together.