How you can still enjoy the flavors of Mexico while eating nutritionally. Planning on a new diet in 2020? Tired of burgers and fries 3 times a week? Looking to spice up the food in your life? Well, we've got the perfect options for you at Grand Hacienda. We've worked tirelessly to formulate a menu loaded with healthy, delicious options that are perfect for an early breakfast, a quick lunch, or an entertaining dinner.
True Mexican food is light, bright, and beautiful, which is why we only believe in serving the best, authentic ingredients available anywhere. From our soups to our salads, there are many options that will ensure you are feeling both happy and strong when you leave the restaurant, our home. We believe in providing options for every diner and are proud to share these healthy menu items with you!
Homemade Granola Parfait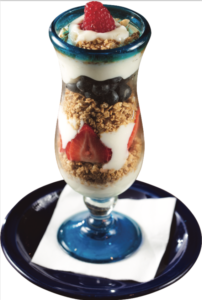 The perfect light and tasty meal to enjoy in the morning! Our granola parfait is comprised of homemade granola, fresh seasonal fruit & berries, yogurt, and honey. This dish is simple yet delicious and is ideal for someone who still loves sweets but wants to enjoy a more nutritious option. In addition to our parfait, we also offer fresh seasonal fruits and oatmeal!
Omelettes
We have a wide variety of omelettes filled with nutritious ingredients! Some of our favorites are:
The Guilt Free Omelette: Fresh tomatoes, green peppers, mushrooms, asparagus, and Monterey cheese.
The Just Power Omelette: 2 egg whites and 1 yolk, spinach, smoked salmon, tomato, fresh fruit, and our whole grain bread.
The Healthy Hacienda Omelette: Spinach, asparagus, mushrooms, and queso blanco.
Grandma Maria's Chicken Soup
This one is a crowd-pleaser for so many reasons. Not only is it very good, but it is good for you! This soup is loaded with homemade chicken broth, chicken, rice, pico de gallo, sliced avocado, and tortilla strips. It is also served with warm tortillas! It is the perfect fast option if you are in a time crunch and are looking for something warm and nutritious!

Rico Salad
This salad is truly an explosion of flavor. It is vibrant, bright, beautiful, and most importantly, healthy! It boasts grilled chicken on a bed of mixed greens, fresh cucumber, onion, tomatoes and radish, sprinkled cheese, and is finished with raspberry vinaigrette.
Tropical Salmon Salad
If the beautiful weather in Florida could be a salad, it would be this one. Our Tropical Salmon Salad is made up of 8oz. of Atlantic salmon on a bed of lettuce and spinach, mango-pineapple pico de gallo, avocado, walnuts, and cranberries with balsamic vinaigrette.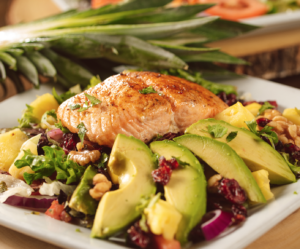 Tortas and Molletes
Both of these sandwiches can be made in styles that taste amazing and can provide many health benefits. Some of our favorite ones are our faji-torta, which is loaded with vegetables, and our avocado mollete, featuring many large portions of avocado, one of nature's superfoods!
Ceviche De Camaron
Freshness is always a guarantee when it comes to our ceviche! It is comprised of fresh shrimp marinated in lime juice, mixed with pico de gallo and avocado slices. We then bring in the chips and you have a wonderful, healthy dish!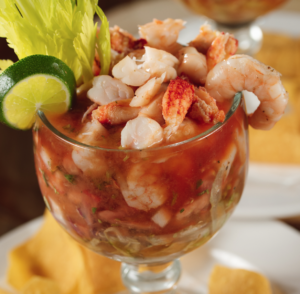 Fajitas
When it comes to fajitas, the more vegetables, the better. At Grand Hacienda, ours are loaded with peppers, onions, and nutritious meats like shrimp and chicken. From our Fresh From the Sea Fajita to our Pineapple Fajita, there is no shortage of healthy options in this section.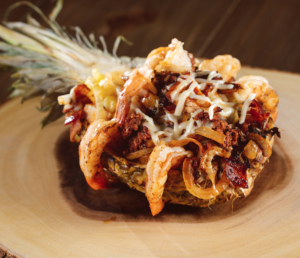 Chile Relleno
The perfect options for vegetarians who just can't get enough of stuffed peppers! Ours is one poblano pepper filled with your choice of beans and queso fresco, mushroom and queso fresco, or beans and mushrooms. It is then topped with tomato ranchero sauce and is served with rice, black beans, and guacamole salad.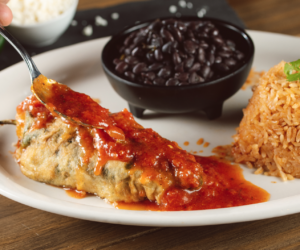 Heavy, unhealthy options are simply not on our menu at Grand Hacienda. We have carefully planned out every meal to be filled with flavor, nutritious ingredients, and authentic spices. Even though we highlighted just a few dishes, there is still a wealth of healthy options on our breakfast, lunch, and dinner menus! Stop at St. Pete Beach or Saint Petersburg today and begin the new year with a healthy, Mexican meal!
In addition, we can also bring healthy food to you by ordering online or placing a catering order!