Holiday excitement is a guarantee at our home, Grand Hacienda!

Since we adore each and every one of our customers so much, we're shaking it up a bit and are doing some special promotions that are sure to light up your holiday season! Here's what our family at Grand Hacienda has planned!
Holiday Gift Cards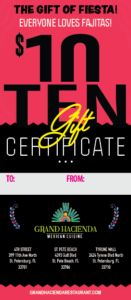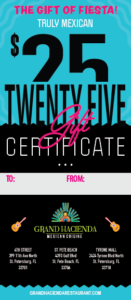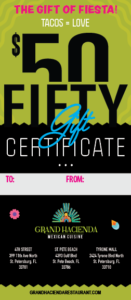 Know someone who adores truly Mexican food? Have someone in your life who enjoys dining with us at Grand Hacienda? Need the perfect stocking stuffer? Well, we have exactly what you're looking for! Holiday gift cards that can be purchased for any price range that you are looking for! Gift certificates can be purchased for $10, $25, or even $50. For those who choose the $50 gift card, you will be gifted with an additional $10 gift card for you! Don't just present a standard gift this holiday season, wrap a fiesta! 
Make Our Home Yours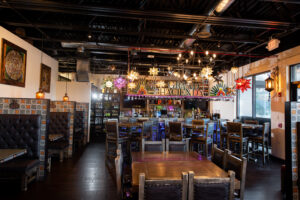 Have you ever wished you could have a fiesta in our home with some of your closest amigos? Well, you can from now until the end of the year! We are currently booking parties for family and friends to rent out our space and enjoy some of the finest amenities that can be found anywhere in St. Petersburg, Florida. From our decor to our food to our full bar, all of it can be yours for a special night. To us, few aspects of life are more special than home and we are incredibly proud to share ours with you! 
Catering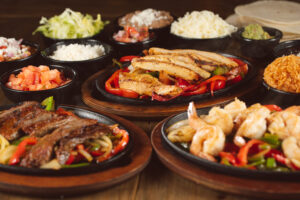 If you are someone who prefers spending time with a close-knit group in the comfort of your own home, you can still enjoy the fresh and vibrant flavors of authentic Mexican food! We offer catering services and are true professionals when it comes to the holiday season! From corporate events to private events to rehearsal dinners, we are here to bring the celebration to you! 
This time of the year is so special for many reasons and sharing it with you is nothing short of a pleasure. Whether you choose to purchase some of our gift cards, want to host an event in our restaurant, are interested in our catering, or even all three, we're here to ensure that you fully experience Mexican culture and celebrate this amazing season. 
Our calendar is quickly filling up so book your party before it is too late and visit us at either our beach or 4th Street location to purchase gift certificates! Please contact us if you have any questions!