How our bright, vibrant, and beautiful logo came to be.
They say, "No matter where you travel, a piece of home is always with you." That statement couldn't be truer when it comes to our restaurant, our home, Grand Hacienda. With every stitch in the fabric of what makes our restaurant truly unique, our heritage and home flourishes. We stay true to our old family recipes, traditions, and memories to create genuinely meaningful experiences for all of our customers to enjoy. Even though Mexico is over one-thousand miles away, it's powerful and strong heart beats in St. Petersburg, Florida with our family's love.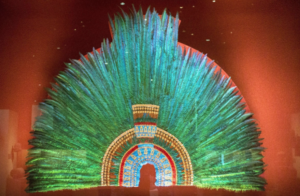 To us, some of the most important aspects of life are family, food, traditions, our culture, and the amazing people of our community, which is why we felt strongly about bringing all of these remarkable aspects together. With this thought in mind, we began planning out the steps toward opening our doors to the public. One of the most important tasks we had to take part in was formulating our logo!
Many thoughts circled around our minds as to what direction we should go in with regard to our logo, but one main aspect stood out to us above all else; the gorgeous Aztec headdress that was worn by royalty. This headdress showcases true beauty in our eyes and brings us back to our homeland, where delicious foods are consumed, precious memories are made, and family is together.
Since this headdress means a great deal to us at Grand Hacienda, we wanted to share some exciting background facts about the Aztec headdress with you! Kick back, relax, and prepare to enter our fun and festive world!
La Historia
The story behind the Aztec headdress is as interesting as it is gorgeous. The headdress is rumored to have belonged to Moctezuma II, the 9th Aztec emperor, who reigned from 1502 to 1520. Though the headdress' homeland is Mexico, the headdress was actually discovered in a castle in Austria. In 1878, explorer Ferdinand von Hochstetler came upon the ornate item encased among a collection of other prized possessions. Though he didn't realize exactly what the colorful feathered item had been used for, he knew it likely belonged to the last indigenous ruler of the Aztecs.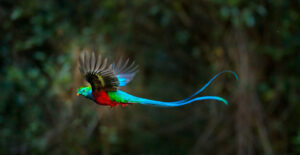 The discovery was eventually determined to be an authentic headdress worn by Aztec royalty. It consisted of 500 tail plumes of an endemic Mexican bird known as the Quetzal. In addition, body feathers of several tropical birds were added to complete the feathered mosaic along with gold ornaments sewn to the feathers. Experts now believe the beautiful Aztec headdress was gifted to the Spanish conquistador Cortez, by Moctezuma himself. But subsequently, it found its way into the collection of an Austrian count who was on envoy to Spain at the time. Ultimately, the headdress traveled to Innsbruck where it remained until von Hochstetler's discovery.
La Pasion de México
To the Aztecs, the headdress' design meant much more than meets the eye. In ancient Mexican cultures, the colorful feathers of birds were believed to be a glimpse into the magnificence of the heavens where the gods resided. Particularly ornate feathers we referred to as "Shadows of the Sacred Ones." The Aztecs believed that their greatest warriors often returned from the dead as splendidly ornamented birds. Thus, the headdress represents a bridge that existed between this world and one even more desirable.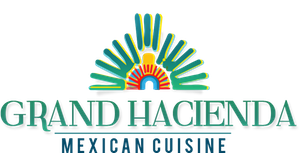 The Aztec headdress symbolizes an immaculate combination of both beauty and spirituality, qualities we embrace fully at Grand Hacienda. From our logo to our decor to our food, we believe full-heartedly in holding strong to our roots and sharing these aspects with the incredible people of St. Petersburg, Florida!
Once you enter our doors, you enter into our home and there is nothing we adore more than providing you with a glimpse into what matters the most to us! Stop by and see us soon, we cannot wait for you to become a valuable part of our loving family!
Interested in dining with us and experiencing true Mexican culture? Reserve a table now!